What is A.Visadd.com?
If you are seeing advertisements displayed by A.Visadd.com, there is no doubt that you have an advertising-supported application on your system. These advertisements might appear on your Internet Explorer, Google Chrome or Mozilla Firefox browsers and you will not be able to stop them unless you erase the undesirable software responsible for A.Visadd.com ads. One of the most typical advertisements is "Todays Best Online Deals"; thus, if it happens that you notice it while browsing the internet, you should definitely check whether you do not have any unwanted software on your PC. The easiest way is to scan the system with a reliable security tool.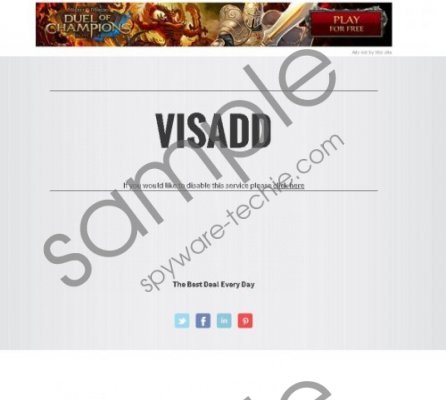 A.Visadd.com screenshot
Scroll down for full removal instructions
It is better not to click on any of those advertisements if you do not want to infect your system. Nobody knows whether the websites where you might end up after clicking on any of those commercials are reliable. Thus, if you are one of those computer users that are eager to protect the system, you should definitely erase the program responsible for A.Visadd.com ads. In addition, there has been another annoying feature of those ads found. If you click on i letter in the pop-up, you will be redirected to A.Visadd.com. You might do that accidentally, which means that you might experience a great deal of inconvenience.
The specialists of spyware-techie.com have found out that A.Visadd.com advertisements might come bundled with a variety of other applications. For instance, you might notice JollyWallet, ShopperPro, and YTDownloader on your PC as well. Different programs manage to enter the system when users do not pay enough attention to the installation wizard. Thus, you should never skip the installation steps by clicking the Next button because you will allow different kinds of applications enter the system. It is also advisable to keep an antimalware tool enabled all the time and if you do so, different kinds of undesirable applications will not enter your system.
Do you want to get rid of A.Visadd.com commercial ads? If so, you should detect and remove the program responsible for them. You can start from checking Control Panel; however, you will not be able to remove all the programs so easily. Thus, we recommend acquiring a reliable security tool and then scanning your system with it. For this matter, you should definitely use SpyHunter antimalware suite which will not only detect and remove different kinds of infections, but also keep your computer protected all the time.
How to remove the undesirable application
Windows XP
Open the Start menu.
Select Control Panel.
Click Add or Remove Programs.
Click on the unwanted software and then click Remove.
Windows 7 and Vista
Click the Start button to open the menu.
Select Control Panel.
Click Uninstall a program.
Right-click on useless program and click Uninstall.
Windows 8
Tap Windows key + R simultaneously.
Enter Control Panel and click OK.
Select Uninstall a program.
Right-click on the undesirable application.
Click Uninstall.
In non-techie terms:
Different kinds of advertisements will not only bother you, but also might take you to unreliable websites where you might infect your system. Thus, we urgently recommend erasing any kind of program that is responsible for A.Visadd.com advertisements. If you have already done that, do not forget to scan your system with a reliable free scanner in order to find out if there are no other undesirable software onto your computer. Just click on the Download button, install it, and scan your system.