Do you know what 9solo.biz is?
9solo.biz is an adware server that wants to show users notifications. The problem is that the website might try to convince you to allow it to show you notifications without you realizing it. Naturally, we do not recommend doing so unless you fully understand what will happen after giving the website the permission that it asks for and know you wish to receive the website's notifications. If you gave the website permission to show you notifications but do not want to see them any longer, you should know that there are a couple of ways to remove 9solo.biz notifications. If you want to learn how and find out more details about the adware server, we encourage you to read the rest of this report. We can also offer our removal guide that is available at the end of the article. As for users who may have questions, we recommend using our comments section available at the end of this page.
How could you come across a website like 9solo.biz? Our cybersecurity experts say that many adware servers travel with pop-ups, ads, and unreliable links that could be available on questionable websites. Thus, we recommend being very cautious when you surf the Internet if you do not want to be redirected to adware servers and websites alike. If you find it challenging to identify doubtful sites or ads, make sure that you have a fully updated and patched browser that could warn you if you are about to enter an unreliable website. A reputable antimalware tool could also stop you from interacting with potentially dangerous or malicious content, which is why we highly recommend getting such a tool if you want your system to be safe and clean.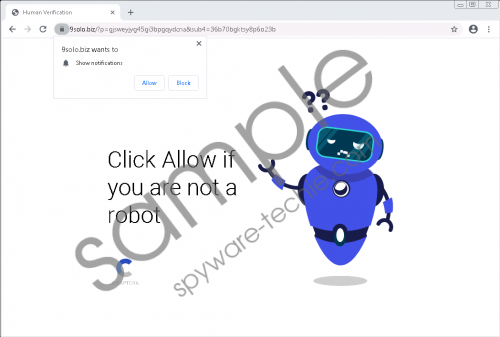 9solo.biz screenshot
Scroll down for full removal instructions
What happens if you land on 9solo.biz? The website might show a message saying that you need to "Click Allow if you are not a robot." Usually, websites use the so-called reCAPTCHA system that allows web hosts to separate human and automated access to sites. This system only requires users to tick a checkbox to verify that they are humans. Some websites ask users to solve simple puzzles like select photos that show road signs, cars, etc. We are trying to say that asking users to click a button called Allow to verify that they are not robots is unusual and should raise a red flag. Especially when the website does not display such a button. As you see, the Allow button should appear on your browser's pop-up message that ought to announce that 9solo.biz wants to show you notifications. Thus, by clicking Allow, you would give the adware server permission to show you notifications. Keep in mind that they may contain ads coming from unknown third parties, which is why there is a risk that some of them might promote unreliable content.
If you have no wish to receive notifications from this adware server, you should click Block instead of Allow. You should not despair if you have clicked Allow and now want to eliminate the adware server's notifications. You can delete 9solo.biz notifications manually if you follow the removal guide available below. It shows how to erase the permission provided to the adware server step by step. The other way to remove 9solo.biz notifications is to scan your system with a reputable antimalware tool and let it take care of the adware server for you.
Erase 9solo.biz notifications
Mozilla Firefox
Launch Mozilla Firefox.
Insert this link about:preferences#privacy into your browser's address bar.
Press Enter to access the Privacy & Security settings.
Go to the Permissions section.
Locate Notifications and click Settings.
Find 9solo.biz, select it, and press Remove Website.
Press Save Changes and restart your browser.
Google Chrome
Launch Google Chrome.
Insert this link chrome://settings/content/notifications into your browser's address bar.
Click Enter to view the Notifications settings.
Check the permissions list located in the Allow section.
Find 9solo.biz and block or remove its permission.
Restart your browser.
In non-techie terms:
9solo.biz is an adware server. It means that the website might show advertising content from different third parties. Our researchers say that the website could display it through notifications. As you see, soon after entering the website, your browser should show a pop-up message saying that the site wants to show you notifications. It should also let you choose between clicking Allow and Block buttons to decide if you want any notifications. The worst part is that the adware server asks to click the Allow and says that clicking it will verify that you are not a robot. In other words, it looks like the adware server's creators are trying to trick its visitors into clicking the Allow button so that they could show notifications. As said earlier, they could contain third-party advertisements as the website appears to be an adware server. If you do not want to receive ads that could come from unknown and possibly unreliable sources, we advise clicking Block. If you have clicked Allow, you can still erase 9solo.biz notifications if you follow the removal guide available below or employ a reputable antimalware tool.