Do you know what 8chan Ransomware is?
Malicious applications are developed every day, and it does not seem that cyber criminals will stop in the near future. 8chan Ransomware is one of the newest malicious applications released by them. It is another infection that encrypts users' personal files upon the entrance. Needless to say, it does not ask for permission. There is a reason why ransomware infections lock files on victims' computers – cyber criminals behind these threats seek to obtain easy money. The good news is that 8chan Ransomware might be decryptable, specialists say. That is, you might be able to unlock your files without a tool crooks have. You should know that there is nothing smart about transferring money to malicious software developers. We do not say that this will necessarily happen in your case, but many users do not receive anything from cyber criminals even if they do as instructed, i.e. send money to them. In other words, there are no guarantees that you could unlock your files even if you make a payment. Additionally, the ransomware infection will not be removed automatically once the ransom is received.
8chan Ransomware is a typical ransomware infection, so there is not much new we can tell you about it. It simply goes to lock users' personal files once it affects their computers. Our specialists say that it will not take long for users to realize what has happened because a) they will not be allowed to access their important files and b) they will find their files renamed and having a new extension appended. 8chan Ransomware should lock users' pictures, documents, music, videos, and many other files. They will all be marked with one of the following extensions: .supdec@8chan.co, .decrypts@8chan.co, .777@8chan.co, or .recover@8chan.co. If 8chan Ransomware is really the one you have encountered, you will also find a new .txt file dropped o your computer. HOW TO RECOVER ENCRYPTED FILES-[used_extension].txt is a short note left for users by the ransomware infection. It informs users that the reason their files are impossible to access is the fact that they have been encrypted. This file also contains an email and a personal identifier. Victims have to write an email to crooks behind 8chan Ransomware if they wish to get their files unlocked. Even though you will not find any demands in the ransom note dropped, we can assure you that the only way to get the decryption tool from cyber criminals is to transfer money to them. These tools are usually extremely expensive, which is one of the reasons we do not recommend investing in one. It is nothing smart about sending money to cyber criminals. As mentioned, they might take your money but do not give you anything in exchange.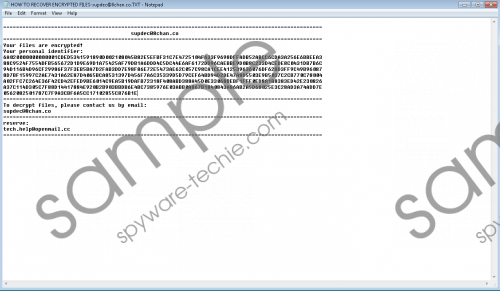 8chan Ransomware screenshot
Scroll down for full removal instructions
All ransomware infections are distributed similarly. As for 8chan Ransomware, it should be mainly distributed via spam emails. This infection might be spread as an attachment, or a malicious link might be placed in an email message body. Additionally, this malicious application might illegally enter systems of those users whose Remote Desktop Protocol (RDP) credentials are weak. Without a doubt, you should not open any spam emails you receive. Keep in mind that an email provider might fail to filter spam emails to the Spam folder in some cases, so it would be best to inspect all emails before opening them. In addition, it is advisable to set secure RDP credentials (if you use it). We cannot promise that this will be enough to prevent all malicious applications from entering the system. There is plenty of sophisticated threats available on the market, so we also highly recommend installing a security application on the system.
8chan Ransomware removes itself once it finishes its job, but you will still have to remove its ransom note and Value from the Run registry key. Also, it has been observed by specialists that this infection might drop additional malware. The sample tested by our research team dropped the Trojan downloader. Theoretically, it might promote other threats too, so if you have encountered 8chan Ransomware, it would be best to scan the system with a diagnostic scanner to find out whether it is the only active infection. If the scanner detects other dangerous infections, you must get rid of them too.
Remove 8chan Ransomware
Press Win+R.
Insert regedit and press Enter.
Move to HKU\[users_ID]\Software\Microsoft\Windows\CurrentVersion\Run.
Locate the malicious Value.
Right-click on it and select Delete.
Remove HOW TO RECOVER ENCRYPTED FILES-[used_extension].txt from your computer.
Remove Trojan-Downloader
Press Win+R.
Type regedit and click OK.
Access HKU\[users_ID]\Software\Microsoft\Windows\CurrentVersion\Run.
Delete the malicious Value.
Close Registry Editor.
Tap Win+E.
Type %APPDATA%\Microsoft in its address bar and press Enter.
Remove suspicious recently added files.
Go to %TEMP% and repeat the 8th step.
Empty Trash.
In non-techie terms:
8chan Ransomware will lock your files immediately if it ever slithers onto your computer. It will also drop a .txt file with a message after encrypting personal files it manages to find. Even though it does not demand a ransom, you will be asked to pay money in exchange for the tool that can decrypt files when you contact cyber criminals. Do not send them a cent – you do not know whether you will get the promised decryptor. Instead, erase the ransomware infection from your computer ASAP.