Do you know what 5finder.com is?
The website 5finder.com is a search engine that replaces the default search provider when the 5 Finder extension gets on the computer. The 5 Finder browser extension is compatible with Google Chrome and is also categorized as a potentially unwanted program (PUP). Programs that fall to this category are usually spread bundled with adware programs displaying advertisements or with browser extensions offering users some enhancement of their experience on the Internet. The 5finder.com website, or rather the program responsible for setting the 5finder.com as the home page, may be dubbed as a browser hijacker on some websites, but that does change the fact that you should remove 5finder.com from your computer, especially if you have not set it as the home page.
The search engine 5finder.com is another copy of a search engine named SpicySearch, which is also known as SpicyStart. The search engine 5finder.com is active in Indonesia, India, Pakistan, and a few over Asian countries.
The browser extension 5 Finder is available in the Chrome Web Store, but you should bear in mind that not all applications accessible through this website are safe to use. You may also encounter the 5 Finder extension when browsing freeware sharing websites. The browser application is known to be spread by pop-up advertisements, which are one of the most powerful means to entice inexperienced users to install some software or service, or to reveal their valuable information. You should not get tricked by advertisements warning you that your computer is infected or that you have just won the big prize. Advertisers employ numerous strategies to catch your attention so that you access their websites or give them any other advantages. In order to prevent unwanted changes as with 5finder.com, you should browse only user-friendly websites whose interfaces are not filled with eye-catching third-party advertisements.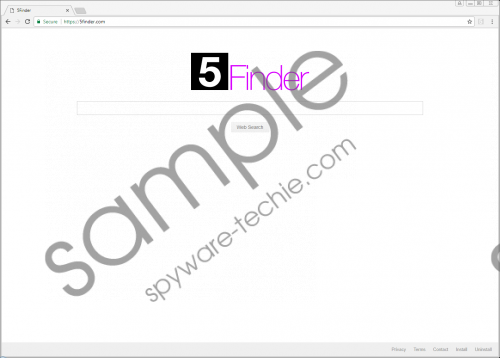 5finder.com screenshot
Scroll down for full removal instructions
The 5finder.com search engine is a search provider that barely differs from other search engines in terms of how it is designed. It offers search results without any specific additions to the interface of search result pages. However, search engines that are distributed in rather shady ways should not be trusted. Not surprisingly, 5finder.com collects some user data which, according to the privacy policy, is done to enhance the quality of the service. 5finder.com records search terms, clicks, and other non-personally identifiable information that could help to make some statistics and users and improve the quality of the search engine. Unfortunately, such data may be shared with or sold to third parties that are also interested in how searchers browse the Internet.
All search providers collect such information, but not all of them are reliable enough. If you look closer and the privacy policy of 5finder.com, you should notice that the search engine might insert some advertisements into search results pages. The web pages to which you are taken by those ads are not controlled or monitored by 5finder.com. This tactic is also commonplace, but you should bear in mind that using a search engine that has not gained its reputation is more dangerous than using a search engine that is reputable and acknowledged worldwide. Hackers behind questionable search engines may be motivated to generate more traffic to certain deceptive websites, which is done by inserting deceptive links into search results pages just the way advertisements are. If you have no intention of using 5finder.com and want to get rid of it as soon as you can, move down to the removal guide.
When it comes to removal, you have two options. You can remove 5finder.com yourself with the help of the removal guide given below, or you can rely on a reputable anti-malware program that does everything that is necessary for you to have a malware-free OS. The only difference between the two is that without a powerful malware detection tool you cannot know whether your valuable information is not at risk. There are numerous threats that differ in their capabilities, but all of them are created to take advantage of you, and you should not let this happen. Even if you choose to remove 5finder.com manually, do not hesitate to launch a system scan afterwards.
How to remove 5finder.com
Click the menu button (three vertically placed dots) in the upper corner.
Click More Tools and when click Extensions.
Remove the unwanted browser extension.
In non-techie terms:
5finder.com is a search engine spread by a potentially unwanted application (PUP) named 5 Finder. The PUP is a browser extension for the Chrome browser and is also dubbed as a browser hijacker by some malware researchers. Categories aside, if you are worried that you have not changed the home page to 5finder.com yourself, the odds are that the settings have been altered surreptitiously. To fix the browsers, follow the above-given removal guide or implement a powerful anti-malware program.