Do you know what 4HD is?
4HD is a free program aimed at enhancing the quality of online videos you watch on different websites. The 4HD program automatically sets the highest resolution so that you do not have to do that manually. The program runs as 4hd.exe and creates no browser extensions, but that does not mean that you cannot remove it from the computer. We recommend that you eliminate 4HD from the computer because this program will show you third-party ads, some of which may advertise fake products or services.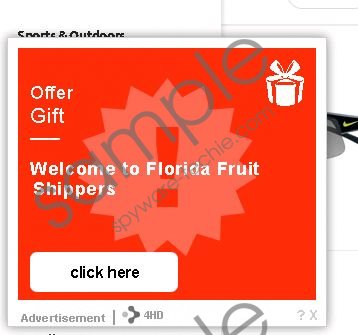 4HD screenshot
Scroll down for full removal instructions
The 4HD program is available for download at no charge, but you should keep in mind that such programs employ some other methods to earn money. The display of third-party advertisements is one of those easy methods to earn money, and we want to warn you that 4HD is not liable for the content delivered to you. 4HD only displays advertisements, but it has no control over their accuracy. Therefore, you use the program at your own risk. It is very important to disregard advertisements promoting updates, system scanners, Flash players, updates, and other suspect programs because they may be associated with phishing websites. This type of behavior is commonplace for advertising-supported programs, and whenever you find yourself in a similar situation, you should remember to ignore those different types of pop-ups as much as you can.
4HD is also capable of monitoring you. Information about your browsing behavior is collected in order to understand your preferences and make some changes in the products. Usually, adware programs collect non-personally identifiable information, but, in some cases, some personal information may be obtained. According to the EULA of the 4HD program, 4HD does not collect personal information in any way, but anonymous information may be shared with third parties. You can remove 4HD from the computer at any time, and we urge you to do so in order to avoid deceptive advertisements and other unwanted consequences.
Our instructions below should help you remove 4HD from your computer, but we strongly recommend that you rely on a reputable security tool. 4HD can be removed by SpyHunter, which offers you real-time protection against malware and spyware threats, such as browser hijackers, adware programs, Trojan horses, ransomware infections, and many other dangerous threats. It is worth installing a powerful anti-malware program, because you cannot know when you will be exposed to a malicious program aimed at obtaining your personal information or compromising your operating system.
How to uninstall 4HD
Windows Vista and Windows 7
Open the Start menu.
Click the Control Panel option.
Select Uninstall a program.
Remove the unwanted application.
Windows XP
Click the Start button in the lower-left corner of the screen.
Click Control Panel.
Select Add or Remove Programs.
Uninstall the unwanted applications.
Windows 8 and Windows 8.1
Move the mouse pointer to the very lower-left corner of the screen.
Right-click.
Select Control Panel.
Click Uninstall a program.
Remove the 4HD program.
In non-techie terms:
4HD is a program that can bombard you with third-party advertisements, and your interaction with those advertisements may have some adverse consequences. If you want to have the 4HD program removed from the computer, install our recommended scanner. You can do so using the instructions provided below.