Do you know what 365j.com is?
365j.com is a browser hijacker that changes your default settings on the Internet Explorer web browser without your permission. This infection enters your computer without your permission, but the person who downloads the installer is none the other, but you. Therefore, you can also remove 365j.com from your computer without much difficulty if you check out the instructions provided below this description. It should also be pointed out that it would be a good idea to invest in a legitimate antispyware application that would help you ensure your system's security in the future. This way, you will not longer have to worry about similar infections.
A browser hijacker is a piece of malicious software that is designed for monetary purposes. It is sometimes hard to pinpoint whether a particular program is malicious or not because quite often browser hijackers are complementary software elements that belong to some domain, a program or even a browser extension. The same could be said about 365j.com as well. This browser hijacker is part of a Chinese news portal, and it might seem like it should improve your online experience. However, if you do not speak Chinese, and you do not even remember going through this website, it is more than obvious that the program is up to no good.
How does 365j.com manage to enter your computer then? Unless you speak Chinese and set this website as your default start page on purpose, we believe that the hijacker gets installed on your computer accidentally. The program probably comes bundled in third-party installers. Third-party installers often distribute freeware applications via file-sharing websites. Whenever you look for some program, and you find it on an unfamiliar file-sharing page, be careful when you go through the installation process. Most of the time, users have the chance to avoid installing unwanted applications, but they miss it because they are too hasty with the setup.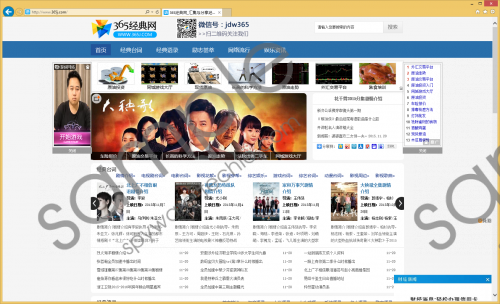 365j.com screenshot
Scroll down for full removal instructions
If you install this browser hijacker on your computer, it will change your homepage immediately, and then next time you open your browser, you will be redirected to 365j.com. Some users may think that it is not much of a big deal, especially since they can bypass this website by changing their settings again, but the point is that this infection does not disappear anywhere. As long as it has the registry modified, the website will come back again and again, and it may not be the worst part of this infection.
All browser hijackers are known to employ tracking cookies. A cookie is a tiny piece of data that is sent from a website you visit and then stored in your browser. Cookies can create a chronicle of your web browsing habits that usually is used to customize your web browsing experience and the web content. In a way, they make your web surfing far more convenient. However, third-party tracking cookies are a security concern because they belong to a different domain than the one you think you are about to access. Browser hijackers employ these cookies to find out the websites you visit and the queries you enter into your search engine.
As a result, the likes of 365j.com can easily find out your likes and preferences and then offer the content that might seem attractive to you. Most of the time, the content will be of commercial nature, and you will be pushed to purchase something or click an outgoing link that leads to an affiliated website. It is important that you refrain from clicking unfamiliar links and pop-ups that might have been generated by the browser hijacker.
Another important thing is that this program may be the least of your concerns. Since 365j.com always gets distributed in software packages, it means there could be more unwanted applications on your PC. Have you been experiencing an onslaught of commercial advertisements? Have you been redirected to unfamiliar websites? Is your computer or browser acting slower? If so, then you clearly need to deal with an entire list of potential threats. If you fail to remove 365j.com and other unwanted applications right now, you could eventually lose your computer and your money. Cyber criminals aim for your financial funds these days, and you can be sure that sooner or later you will become their target, too.
Check out the instructions below to get rid of this browser hijacker. You can either reset the settings of Internet Explorer or change your Start Page via Registry Editor. You should also get yourself a powerful antispyware tool that will help you protect your computer from similar intruders in the future.
How to Remove 365j.com
Open the Internet Explorer browser.
Press Alt+T and click Internet options.
Open the Advanced tab and click Reset.
Select Delete personal settings and press Reset.
Click Close.
How to Modify Registry Entry
Press Win+R and enter regedit. Click OK.
Click HKEY_CURRENT_USER and go to SOFTWARE.
Open Microsoft and select Internet Explorer.
Go to Main and find Start Page on the right pane.
Right-click Start Page and select Modify.
Enter the startup page you prefer in the Value Data.
Click OK and exit the Registry Editor.
In non-techie terms:
If your startup page changes to 365j.com, it means you have been infected by a browser hijacker. You obviously need to delete this infection at once because such programs can easily expose you to even more serious computer security threats. If you need any assistance with malware removal, feel free to leave us a comment. Also, having an updated malware removal tool will help you maintain your system's security.