Do you know what 24stream is?
Have you downloaded 24stream onto your Google Chrome or Mozilla Firefox web browser? If you have, you need to consider deleting this extension because it is classified as a potentially unwanted program (PUP). Our research team has analyzed this suspicious piece, and the conclusion is that it is not really useful or trustworthy. If you look at the name of the extension, it is only natural if you think that it is capable of streaming content. That is not how it works. Instead, all it can do is find movie-related videos that you could easily find on YouTube or another legitimate and trustworthy video hosting platform. Needless to say, this makes the extension completely useless, and that is why we suggest getting rid of it. Do you know how to remove 24stream from your browser? If you do not, continue reading.
Have you downloaded the suspicious 24stream from install.24-stream.com/?pid=53172&pgs=1? This is the official installer. If you have installed this strange PUP onto your Chrome browser, you might have acquired it from chrome.google.com/webstore/detail/24stream/ecfodgbkmebfbdibfmddkihfkeeojgce too. Of course, you have been introduced to the installer of this add-on via a software bundle, and malicious infections might have been installed along with it. Has this happened? Even if you are pretty sure that malware does not exist, you want to install a legitimate malware scanner. If you need to delete anything else besides the PUP, you will be warned about it. All in all, regardless of how it invades your operating system and browsers, removing it is recommended, and its uselessness is not the only thing that you should focus on. Some users erase this PUP because they believe it is a browser hijacker.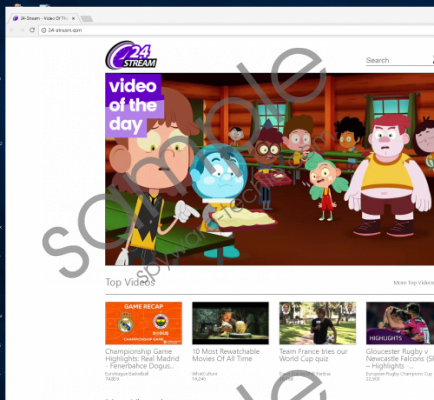 24stream screenshot
Scroll down for full removal instructions
When you install 24stream, feed.24-stream.com is set as the default search provider, and every time you enter search keywords into the address bar, you are redirected via this engine to Yahoo Search. The results could be modified, which is why we do not recommend using this feature. Of course, you are supposed to use the PUP as a personalized search engine by typing "movies" into the address bar, tapping Space/Tab key, and entering the name of a movie. If you do this, a list of videos related to that movie is shown, but you should not expect to see full-length movie videos because 24stream does not actually stream movies. The best it can do is introduce you to the trailer of the movie you are looking up. So, is this PUP a failed attempt at making something great? Well, although it cannot serve you in a beneficial manner, that does not mean that it cannot serve its creator.
Did you know that 24stream can record information about your virtual activity? Besides recording non-personally identifiable data, such as your IP address, browsing history, or cookies, it also can collect certain personal details too. This is the cherry on the cake, and we are sure that you will choose to delete 24stream from your web browser immediately. Luckily, you do not need any special skills or even experience to eliminate this PUP manually. Follow the instructions below if you want to get rid of the add-on yourself, or install an anti-malware program if you want it erased automatically. You should really look into this if the malware scanner you used found other threats and if you need assistance keeping your operating system malware-free in the future.
Remove 24stream
Google Chrome
Launch the browser and tap keys Alt+F.
In the More tools menu select Extensions.
Remove the undesirable extension.
Mozilla Firefox
Launch the browser and tap keys Alt+T.
In the Tools menu select Add-ons to access the Extensions menu.
Remove the undesirable extension.
In non-techie terms:
You cannot stream movies via 24stream. At best, you can find movie trailers and movie-related videos. At the end of the day, this allegedly beneficial extension is just a poorer version of YouTube, Vimeo, Vevo, and all other well-known video hosting services that actually can be trusted. Although the PUP is unable to serve users in a beneficial manner, it can assist the creator in recording information about you, and that is something that you cannot ignore. Needless to say, we recommend deleting 24stream immediately. You can do that manually using the instructions you can see above, or you can install anti-malware software that will do it automatically. We suggest moving with the second option because this software can eliminate all threats simultaneously and because it is irreplaceable when it comes to keeping the operating system and browsers safe.