Do you know what 1m Search Redirect is?
1m Search Redirect appears to be a recently created search engine, so it might be not popular or active yet. According to our specialists, the application looks quite suspicious, so you should not let your guard down if you happen to encounter it. First of all, it is still unknown who developed 1m Search Redirect, what is the software's policy on privacy issues, and how exactly the search engine could work on the user's browser. Therefore, we would advise users who come across it to replace this questionable tool with a more trustworthy one, for example, google.com, yahoo.com, etc. To remove it from Internet Explorer, Google Chrome, or Mozilla Firefox it should be enough to reset these browsers. If you need any assistance while resetting the browser, you can slide below the article and follow the provided removal guide. However, if you want to learn about this tool more, it would be a better idea to read the article first.
The search engine's URL address could be searchusatoday.com so you should not be surprised if it does not match the tool's title. More importantly, the first thing you should notice after visiting this site is the lack of Privacy Policy and End User License Agreement (EULA). Some users do not bother to read such documents at all, but they become quite important at times when you are dealing with suspicious applications. For example, the EULA document could explain to you how 1m Search Redirect might work. For instance, similar unreliable search tools sometimes have the ability to connect to the Internet and automatically download not only updates but even entirely new applications.
As for the Privacy Policy statements, they could tell us what kind of information (private or anonymous) 1m Search Redirect may gather while the user is searching the Internet. Also, it could tell users if the search engine's creators might use collected information without their permission, for example, for marketing purposes, to show targeted ads, share it with other interested parties, and so on. Needless to say that if you do not think you can tolerate any violation of your privacy, then it might be best to pick a tool that has a Privacy Policy document and can ensure such thing will not happen.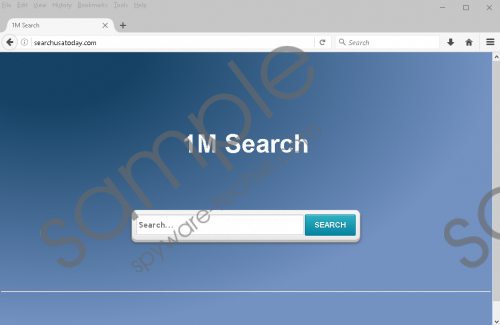 1m Search Redirect screenshot
Scroll down for full removal instructions
Furthermore, there is a possibility 1m Search Redirect could show third-party advertisements among the search results. Without the mentioned documents we cannot say if the software's creators can reassure it would be safe to interact with such ads. In other words, the displayed ads might not be necessarily reliable as they can advertise potentially malicious content, for example, adware, browser hijackers, potentially unwanted programs, or even malware like Trojans, viruses, and so on.
Keeping a suspicious application, you do not know anything about is most likely a bad idea if you want to maintain the system secure and safe from potential threats. If you feel you cannot trust 1m Search Redirect, our specialists encourage you to remove it as soon as possible. Resetting the browser should help you erase the suspicious search engine, but we cannot be entirely sure as there are still details we do not know about this recently created application. Thus, it might be safer to employ a reliable antimalware tool. This way the tool could detect the application automatically, so all would be left to do is click the deletion button, and the threat would be deleted. If there are any other questions related to 1m Search Redirect we could answer, try to add a question in the comments section below or contact us via social media.
Erase 1m Search Redirect
Internet Explorer
Press Alt+X and access Internet Options.
Select Advanced and click Reset.
Press Delete personal settings.
Click Reset again and select Close.
Mozilla Firefox
Press the Help icon.
Click on Troubleshooting information.
Select Refresh Firefox.
Pick Refresh Firefox again and click Finish.
Google Chrome
Press Alt+F and access Settings.
Slide below and pick Show advanced settings.
Scroll down once more, click on Reset Settings and select Reset.
In non-techie terms:
If your privacy and computer's security are the two most important things, 1m Search Redirect might be a bad choice for your homepage or default search engine. The application does not provide any necessary information about itself like the company who created the software or its policy on privacy issues. Based on our specialists' experience with similar suspicious applications we may say it is possible it could modify specific browser settings and show potentially harmful third-party ads. Because of these risks, it might be wise to change the search tool with a safer alternative. Users can eliminate it by completing the steps provided in the removal guide placed above or by scanning the computer with a reputable antimalware tool.