Do you know what 1-877-884-5474 Google Security Warning Message is?
The name of this entity is pretty self-explanatory. 1-877-884-5474 Google Security Warning Message is a fake notification that graces your screen when you browse the Internet. This notification is very persistent in its goals, and it tries its best to make you call that given number. Of course, that is something you should never do. You have to remove 1-877-884-5474 Google Security Warning Message from your screen, and once you do that, you need to get rid of the program that is generating this notification. The best way to detect the program responsible is to scan your PC with a powerful antispyware tool.
Unfortunately, we cannot tell you exactly what program is causing this message to appear. Our research team says that it is probably an adware application you have recently installed on your PC. Of course, here you might say that you would never install adware app on your system because these programs are annoying and potentially harmful. However, in this case, we can also say that these programs are good at entering target systems with user's permission even if they are not aware of that. That happens when you download freeware from third-party websites.
What is freeware? Freeware is any kind of application that is available free of charge, and you are not required to pay for a subscription if you want to utilize this type of program. This sounds nice, right? Nevertheless, the problem with freeware is that anyone can acquire the installer files for such applications, and these installers can be bundled into one big third-party installer that also carries adware and potentially unwanted software. If you have downloaded some freeware application from a file-sharing website, the chances are the installer also carried the program that generates this annoying 1-877-884-5474 Google Security Warning Message on your screen.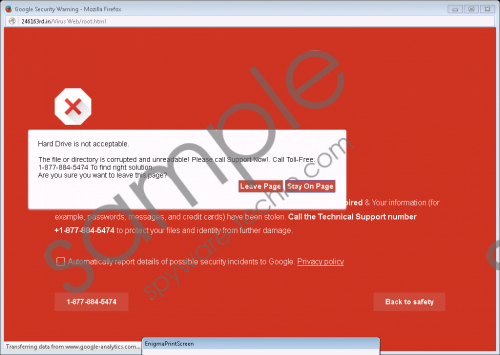 1-877-884-5474 Google Security Warning Message screenshot
Scroll down for full removal instructions
Is the message dangerous by itself? Not really, it is merely obnoxious. However, the text within the notification may scare certain users into actually calling the supposedly "toll-free" number. After all, the notification appears on your screen in scarlet red, and it says that your computer has been compromised by a malicious infection. Your files are no longer readable, and your hard drive has been corrupted. If you want to go "back to safety" you need to call the 1-877-884-5474 number to receive further instructions. However, this is obviously a scam devised to trick innocent users into giving away their money.
What's more, the presence of this notification on your screen also implies that you have more unwanted software on-board, and this software might as well employ various tracking techniques to collect information on your web browsing habits. Later on, that information can be used for online marketing schemes, and it would not be surprising if you saw a lot of annoying pop-up ads on your screen.
As you can probably tell, having freeware and adware programs installed is not your best idea of fun. However, it can also take a turn for the worse if the adware program that shows the 1-877-884-5474 Google Security Warning Message gets exploited by cyber criminals. For example, it could promote corrupted third-party content, as adware programs do not review it. And, in the worst-case scenario, clicking that content might also lead you to a dangerous site that distributes malware. Thus, the possibility is not that high, but an adware program COULD be linked to a malicious infection. And so if you want to avoid that, you need to terminate and remove all the unwanted applications right now.
When you close your browser's window that displays the 1-877-884-5474 Google Security Warning Message, please scan your computer with the SpyHunter free scanner. A full system scan will help you determine which programs and files have to be removed from your system right away. Most of the time, it is possible to delete such programs via Control Panel, but if you think it is too tedious, you can always resort to using a legitimate antispyware application.
When all the unwanted programs are taken care of, protect your system from similar intruders. Investing in a powerful antispyware tool definitely helps; as well as employing safe web browsing habits. If you need any further advice on that, do not hesitate to leave us a comment.
How to Remove 1-877-884-5474 Google Security Warning Message
Windows 10 & Windows 8.1
Press Alt+4 and close your browser's window.
Press Win+R and the Run prompt will open.
Type in Control Panel and click OK.
Open Uninstall a program and remove the adware application.
Windows Vista & Windows 7
Press Ctrl+Shift+Esc and open the Task Manager.
Click the Processes tab and click the browser's process.
Press the End Process button and exit Task Manager.
Go to the Start menu and open Control Panel.
Click Uninstall a program and remove the adware application.
Windows XP
Press Alt+4 and your browser will close.
Open the Start menu and go to Control Panel.
Select Add or remove programs and uninstall the unwanted application.
In non-techie terms:
1-877-884-5474 Google Security Warning Message is a bit of a mouthful for a name, but this is the notification that appears on your screen when you have unwanted programs installed. In other words, it is one of the best tell-tale signs that give away the current state of your computer's security. And it is not that good. To protect your PC from potential exploitation and malware infection, please remove 1-877-884-5474 Google Security Warning Message and the program that generates it immediately.