Do you know what '1-844-275-0979' Pop-Up is?
Coming across '1-844-275-0979' Pop-Up is not so pleasant since it might be difficult to close this false warning. Not to mention some users could believe what it is said in it and get scammed after calling the provided telephone number or reveal their login password to the hackers behind this scam. According to our researchers, the fake warning might be shown because of malicious applications on the system. Thus, if you notice this notification on the browser, you may want to acquire a legitimate antimalware tool and do a full system scan. There are other ways to receive the threat too, so we encourage you to continue reading the article and learn more about it. Afterward, users should eliminate '1-844-275-0979' Pop-Up immediately; to erase it manually, you could use the removal guide placed below.
Just as we mentioned, in the beginning, the fictitious pop-up could appear on the system if there are any malicious applications installed. Also, you might receive '1-844-275-0979' Pop-Up after installing a questionable browser extension. In order to avoid such threats or other potentially dangerous programs in the future, it would be best to stay away from suspicious extensions and untrustworthy file-sharing websites that might bundle their software with such add-ons. A reliable antimalware tool could help users too, as it could guard the system against malware and warn the user about potentially malicious content.
'1-844-275-0979' Pop-Up is shown after the user gets redirected to malwarealerts.online. Firstly, the false warning should say something like "YOUR COMPUTER HAS BEEN BLOCKED." Then the pop-up should urge users to contact the hackers by saying "Please call us immediately at:1-844-275-0979." To persuade users to do as instructed the threat's creators use scare tactics. For instance, they might say that the access to the computer will be blocked or particular sensitive information could be stolen if you close the notification or do not call the provided telephone number within five minutes.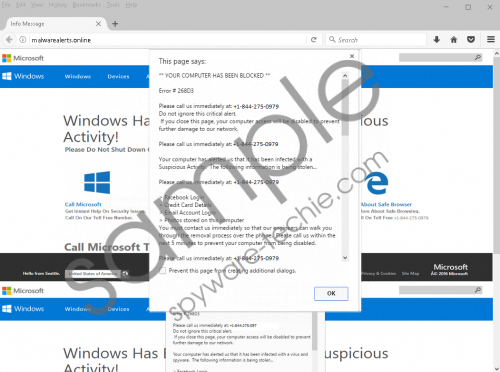 '1-844-275-0979' Pop-Up screenshot
Scroll down for full removal instructions
The main sign showing something is wrong is the phone number itself. If the situation was real, the computer would suggest what to do rather than ask you to call someone. Besides the loaded site itself does not look legitimate even it tries to imitate official Microsoft web page. Therefore, we recommend ignoring any urges and most importantly avoid calling the so-called engineers that are supposed to help you. If you do so, they might try to get access to the computer or scam you by selling unnecessary software, remote support services, etc. At some point, '1-844-275-0979' Pop-Up may also show the "Authentication required" window. If you submit the username and password, this sensitive data could fall into the hands of hackers, so you would do wise by not providing it.
As you realize there is nothing else to do but to remove such pop-up if it shows up on your browser. Eliminating it might be not as easy as it can be hard to close, for example, if you click either X or OK button, the page with the warning might be displayed in full screen. Once you manage to exit the notification is still not over since it is important to get rid of the software possibly associated with it. Users who are up for the task can do this manually as it is shown in the removal guide. However, the task could be too complicated without knowing what particular threat allows '1-844-275-0979' Pop-Up to show up. Thus, it might be easier to simply scan the system with a reputable antimalware tool and let it deal with the threat for you.
Close '1-844-275-0979' Pop-Up
If you clicked OK or X buttons and the website is in full screen, press F11 to restore it.
Close the browser along with all opened tabs by clicking the browser's X button.
If it cannot be closed; press Ctrl+Alt+Delete and open the Task Manager.
Choose the Processes tab, select your browser and press End Task.
Exit the Task Manager.
Delete suspicious browser extensions
Internet Explorer
Press ALT+X.
Click on Manage add-ons.
Choose Toolbars and extensions.
Find the suspicious add-on and erase it.
Mozilla Firefox
Press CTRL+SHIFT+A.
Choose Extensions.
Select the threat and press Remove.
Google Chrome
Press ALT+F and pick Settings.
Click More tools and select Extensions.
Find the unreliable extension.
Press the trash bin button near it.
Select Remove.
Reset the affected browser
Internet Explorer
Press Alt+X.
Select Internet Options.
Open the Advanced tab.
Click Reset and mark Delete personal settings.
Press Reset again and click Close.
Mozilla Firefox
Click the Help icon on the top-left corner.
Select Troubleshooting information.
Choose Refresh Firefox.
Press Refresh Firefox again and pick Finish.
Google Chrome
Press Alt+F.
Select Settings and slide down.
Click Show advanced settings then scroll down.
Choose Reset Settings and press Reset.
In non-techie terms:
'1-844-275-0979' Pop-Up is a fake warning that might be displayed by malicious or unreliable software hiding on the user's computer. Naturally, there is no point in calling the provided telephone number as the situation could only get worse. For example, the scammers might try to sell you questionable products or services, collect your sensitive data, get access to the computer, and so on. This is why our researchers advise closing the notification as fast as possible. Then users should get rid of the threat that loads the false warning. Those who need any assistance with these tasks should check the removal guide placed above. You can either follow all provided steps and delete the threat manually or complete the ones to close the pop-up only and then finish cleaning the system with a reliable antimalware tool.