Do you know what +1-833-889-1888 BSOD Fake Message is?
+1-833-889-1888 BSOD Fake Message is a piece of software, that should never be active on your personal computer. It is designed by malware developers to scare naive Internet users into thinking that their computer is in imminent danger. The primary objective of this intrusive program is to help its developers make illegal profits. It is also important to note that the scam in question also limits your ability to use your computer altogether. Having such program active on your operating system is an annoying and frustrating experience. If you wish to learn more about the inner workings of this intrusive piece of software, be sure to read our article entirely as we present information gathered by malware researchers at Spyware-Techie.com. Furthermore, we include a few virtual security tips to help you avoid devious programs such as the one in question. To help you delete +1-833-889-1888 BSOD Fake Message once and for all be sure to use the detailed instructions that you can find below.
During the initial analysis, our researchers have discovered that +1-833-889-1888 BSOD Fake Message differs quite a bit from other devious alerts that are active nowadays. Unlike its counterparts, it does not affect any browser and does not appear within the browser. Instead, the warning message appears on your desktops and blocks access to it. That happens due to a couple of reasons. Once the invasive application enters your operating system, it immediately implements three of its files in various startup directories. Due to that, the intrusive application will auto start every single that you start your computer. Thus, for as long as this fake alert will be fully active on your operating system, you will not be able to use your computer. The hoax warning message is carefully designed to appear as a legitimate warning issued by Microsoft, which is known as a Blue Screen of Death. It tells you that your system has been shut down to prevent further damage due to suspicious errors. Unfortunately, quite a few users could be fooled by all of this. However, you should know that an authentic Microsoft alert would never provide a specific phone number that you should call to resolve the issue. Under no circumstances contact the developers of this hoax error as will try to lure money in return for a repair service that you do not need. You must delete +1-833-889-1888 BSOD Fake Message since that is the only way to regain access to your operating system. To do so, make sure to follow the instructions that you can find below.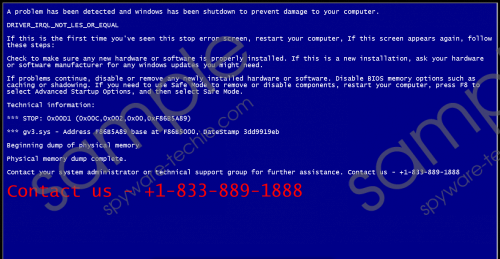 +1-833-889-1888 BSOD Fake Message screenshot
Scroll down for full removal instructions
It goes without saying that you must keep your personal computer free of such applications as +1-833-889-1888 BSOD Fake Message. To do that you need to improve your virtual security by taking a few precautionary steps. First and foremost, be sure to install a professional antimalware tool, if you do not have one already. Such a tool is the most important part of your virtual security because it is designed to identify and terminate any virtual threat before it can even enter your operating system. Alongside such a tool, we recommend practicing safe browsing habits at all times. It is critical to download all of your applications from their official developers' sites only because unauthorized distribution web pages are tend to host bundled installers, which malware developers use for distribution purposes. Furthermore, be sure to refrain from all questionable email attachments that might come from questionable third-parties. That is important because cyber crooks tend to use spam email campaigns to distribute their invasive applications. By taking these preventative steps, you will make your operating system virtually unbreakable.
Make sure to delete +1-833-889-1888 BSOD Fake Message once and for all, by using the instructions that we provide below. Be sure to follow each step with your utmost attention since a single mistake could result in an incomplete removal. In such a case leftovers of this fake alert could initiate its silent restoration. In other instances, those same leftovers might be just enough for this program to continue its intrusive functionality. To be sure that the removal of +1-833-889-1888 BSOD Fake Message has been successful, make sure to conduct an in-depth analysis of your personal computer for anything linked to it, once you are done with the instructions below.
How to remove +1-833-889-1888 BSOD Fake Message from your PC
Tap Ctrl+Alt+Delete simultaneously to start a Task Manager.
Click the Applications tab.
Select a task called Microsoft Windows and then click End Task.
Open your File Explorer.
Delete a file entitled Network cleaner.hta from the following folders:
a) C:\Users\[your username]\AppData\Roaming\Microsoft\Windows\Start Menu\Programs\Startup.
b) C:\ProgramData\Microsoft\Windows\Start Menu\Programs\Startup.
c) C:\ProgramData\Application Data\Microsoft\Windows\Start Menu\Programs\Startup.
Close your File Explorer.
Right-click your Recycle Bin and the select Empty Recycle Bin.
In non-techie terms:
If you think that manual removal of +1-833-889-1888 BSOD Fake Message is too complex, do not worry. Malware researchers at our internal labs have crafted an alternative removal guide. By following the instructions below, you will be able to delete this intrusive program automatically.