Do you know what 0123movies.com is?
0123movies.com is a website that is supposed to allow stream movies free of charge and without interruption of advertisements. Unfortunately, in reality, the application shows various irritating ads that may disturb the user. What's more, our computer security specialists say it is classified as a browser hijacker since it settles in on the system by replacing user's homepage. If you do not like the changes 0123movies.com might do to your browser or hate the advertisements it could display, we recommend deleting it with no hesitation. The removal guide available at the end of the main text is there to help you get rid of the browser hijacker faster. Naturally, if you prefer using automatic features, you could eliminate it with a reputable antimalware tool of your choice just the same. Whatever you choose, we also invite you to read the rest of our report to get to know this suspicious application better.
There are a few ways users could come across 0123movies.com. For example, it might be bundled with various other applications like browser extensions. The bundled installers could be obtained while visiting untrustworthy file-sharing websites or clicking unreliable pop-up advertisements. Staying away from such content could help you avoid unreliable applications or even malicious threats in the future, so we highly recommend being extra cautious next time. It is true the browser itself can sometimes warn the user about suspicious web pages or content, but to maximize the chances the browser will detect questionable material, it is essential to keep it up to date. Same goes for antimalware tools because if they are out of date, they may simply not recognize newer threats. Thus, updating such tools regularly is vital.
The browser hijacker might settle in on Google Chrome, Mozilla Firefox, and Internet Explorer browsers by replacing their homepages. After the site is loaded, you should see a search box saying "Enter Movies or Series name." Just a bit below it there is a statement that claims "Our site is Ads-Free" and that you can "Watch free movies without disruption from annoying advertisements." Knowing it is a browser hijacker it did not come as a surprise when we noticed ads being displayed even though the description just said there would be no annoying advertising content. It looks like the things promoted via 0123movies.com ads can vary depending on the user's location. If you find such material irritating and do not like the idea the tool's description is deceiving, we encourage you to get rid of 0123movies.com at once.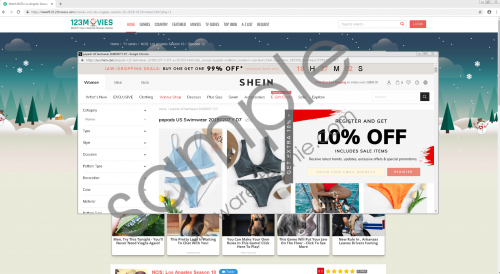 0123movies.com screenshot
Scroll down for full removal instructions
Our computer security specialists say it might be enough to remove suspicious extensions to erase 0123movies.com, although if it does not go away, you may need to reset the browser. The removal guide available a bit below will explain both how to eliminate unreliable extensions and how to reset the browser. Still, if the task is too difficult or you do not want to reset your browser, you could use a reputable antimalware tool instead. Just set it to scan the computer and click the given deletion button once the scan is completed.
Delete 0123movies.com
Google Chrome
Open Google Chrome.
Paste this link: chrome://extensions into the browser's address bar.
Press Enter and search for a suspicious browser extension.
Tap Remove and exit Extensions menu.
Restart your browser.
Mozilla Firefox
Open Mozilla Firefox.
Paste this link: about:addons into the browser's address bar.
Click Enter and go to Extensions.
Find an add-on that could be related to the browser hijacker and remove it.
Exit Extensions menu.
Restart your browser.
Internet Explorer
Press ALT+X.
Click on Manage add-ons.
Choose Toolbars and extensions.
Look for a suspicious extension and erase it.
Reset your browser
Internet Explorer
Press Alt+X.
Pick Internet Options.
Open the Advanced tab.
Click Reset and mark Delete personal settings.
Press Reset again and click Close.
Mozilla Firefox
Press the Help icon.
Select Troubleshooting information.
Click on Refresh Firefox.
Press Refresh Firefox again and click Finish.
Google Chrome
Press Alt+F.
Select Settings and slide down.
Click on Advanced.
Scroll down again and select Reset.
Press the Reset button.
In non-techie terms:
0123movies.com may promise you will be able to watch free movies or other similar content without interruption of pop-ups, banners, and other annoying advertisements. Nonetheless, our researchers tested the streaming site themselves and found out its description lies about not showing advertising content. Apparently, the application can display various ads based on the user's location. It might come as a surprise and not a good one if you were expecting an ads-free application. In such case, we advise not to put up with such behavior and get rid of the browser hijacker. The removal guide available a bit above this paragraph shows the steps that users need to complete if they wish to eliminate the unwanted tool manually. Also, users can erase it from all of the browsers it works on with a reliable antimalware tool.